Update:
Iglesia de Cristo, Santiago Ixcuintla Nayarit.
Hello my name is Antonio, and I would like to share this wonderful thing that happened to us, it was remarkable, the brother in the three pictures below came to us before worship service last Sunday, my first impression was of someone that would have come to ask us for money, but to my surprise he came only asking for prayers for he had AIDS and he was feeling very weak, he came without strength walking, just wanting God's Council, that's when I told him that if he believes in God all things are possible, he told me he believed and I then interviewed him following up with the We Care approach teaching him the Gospel of which he agreed to obey, I would like to be baptized for the remission of my sins, but I would also like to die in Chiapas where I was born, we took up a collection among the brethren and after prayers he headed home, God was teaching us that baptism was for forgiveness of sins and not to make a member of a certain congregation. ¿Isn't that marvelous? I was left with a great joy in my heart because he had found his salvation by obeying the Gospel, please share this with my brothers in the congregation where you meet. May God richly bless all of you. Please pray for him and for the work here in Santiago.
In Christ.

Antonio Garcia Hernandez.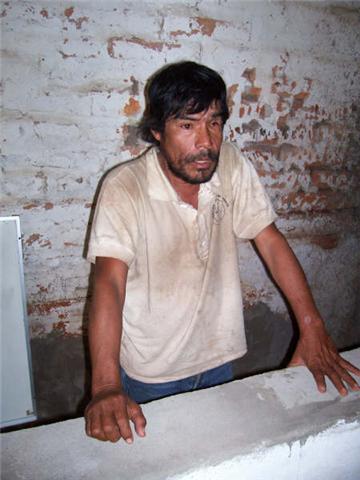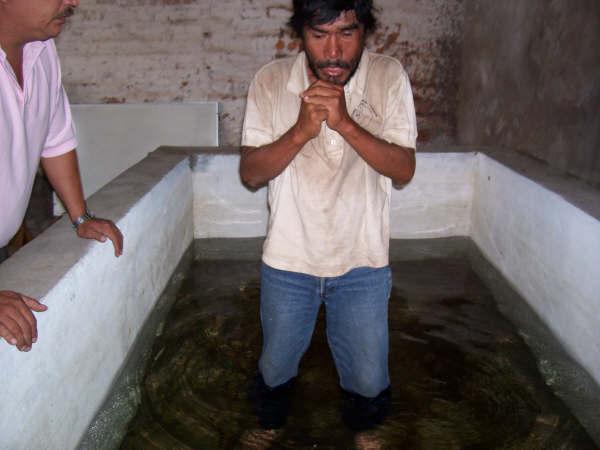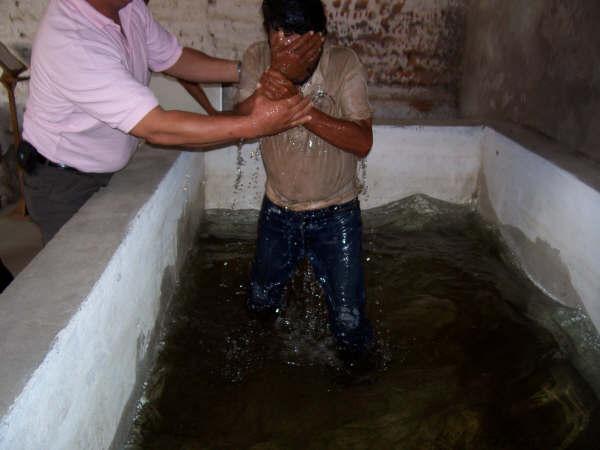 Iglesia de Cristo, Santiago Ixcuintla Nayarit.

Along the way Marco Senoret, WCM's Spanish Evangelist, conducted training events and full We Care Campaigns in places like Lerdo Durango, where he had 120 students to train there from a school of preaching and listeners from 18 congregations.
In Santiago Ixcuincla of Nayarit, Mexico, we saw only about seven in attendance the first Sunday. But the second that had increased to nearly 30. Praise God! Here is the attendance on the morning of the second Sunday, Victory Sunday!
The total responses for these campaigns do not really tell the complete story of the success of We Care Ministries. The training and encouragement that is brought to the congregation continue to work in the lives of people. Many training sessions and much people-approaching are conducted by the cadre members between campaigns. Bill Basket continues to hold his training in Abilene, Texas. Jim Smith and Ted Hardwick and their wives traveled to Arkadelphia, Arkansas, in September to train and encourage the minister there. He was planting a church in Caddo Valley and was very interested in learning the We Care method in order to add more souls to the Kingdom. While involved in the training one soul obeyed the Gospel. Lou G? and Reggie Gardner stayed on at Niceville, Florida for several months to help in further training and in follow-up work there. Jim Smith holds training seminars in the Dallas-Fort Worth area and just since November one of these seminars resulted in three souls obeying the Gospel. We are constantly getting reports from our cadre about the workers they have trained and the souls who have responded to the Gospel. There are far more results from having a campaign than numbers can reveal.
Hi Family: this is a congregation from Santiago Ixcuincla which I visited and state of Nayarit old Mexico.
November the first through the ninth 2008.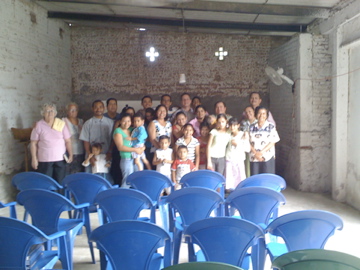 The first Sunday we saw only about seven in attendance. Here is the attendance on the morning of the second Sunday, Victory Sunday! What a wonderful increase, testifying to the success of our We Care efforts. Praise God! In addition to these others came to the evening service, members like the new sister, Austolia, and her family, and the Social Security director, Dr. José Luis, and a student from the school of preaching in Torreon. Also during evening service another nearby congregation joined us with their preacher. So Victory Sunday morning was not full to capacity but victory Sunday night was.
For all this we are warmly grateful and praise God for all the victories!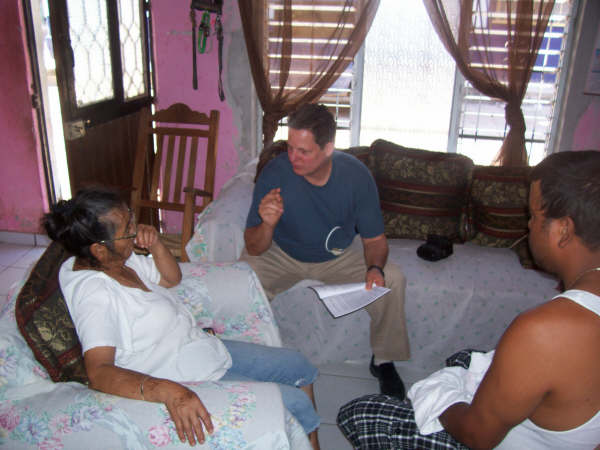 Here I am teaching Austolia and her son.
This is the moment when she's asked the big question is she's ready to become a Christian.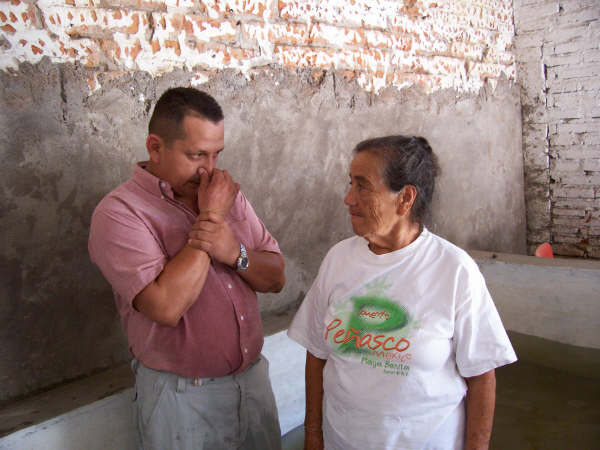 Here is Austolia receiving instructions from Antonio on what to do during the baptism.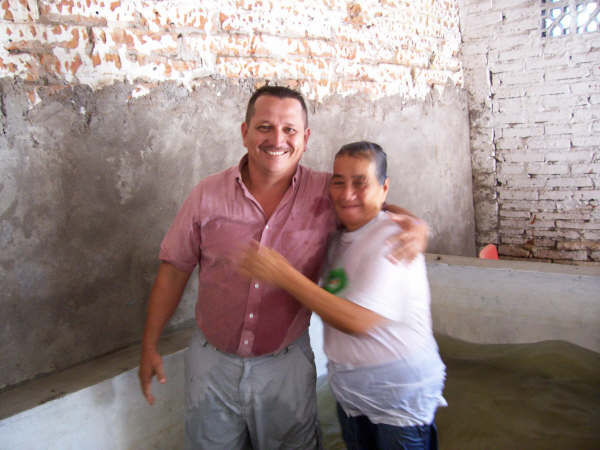 We have our first new Christian, our first conversion of the campaign only four hours after we set out to knock the first door.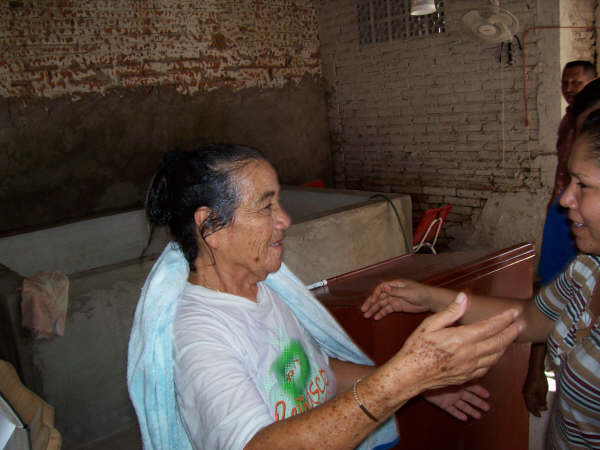 Here is Austolia being greeted by the welcome circle after her baptism.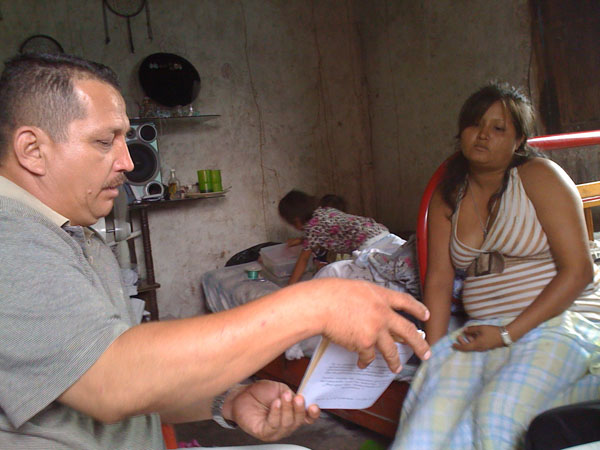 This is the local preacher, Antonio, teaching a lady named Marisol the Gospel using the We Care method. We had found her husband earlier on this street vending in his place of business. He was a new Christian. He has been a part of the Church for approximately only a year and had fallen out of duty. We asked him if we could meet him at his house and talk to him about his relationship with the Lord, but when we arrived it so happened that he hadn't gotten home yet. So we proceeded to teach his wife. This was Antonio's first attempt at a full interview using our approach. She was from a Pentecostal background and her story had been a typical faith only response. Later, during the presentation of the Gospel, she clearly realized that she had never obeyed the Gospel.
Here you can see the Bible study in progress.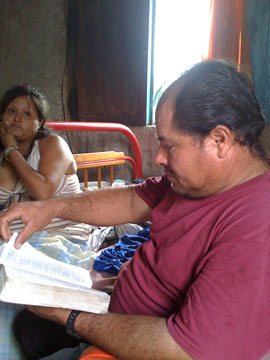 Here you can see the butcher from the local butcher shop, He's known in the congregation is Nini. He wanted to learn the We Care approach and fortunately the Bible study went well.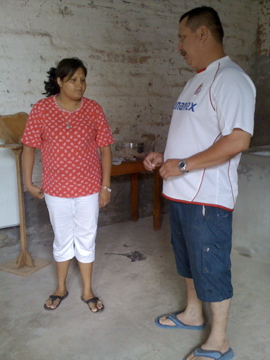 Here Marisol is giving her confession of faith to Antonio.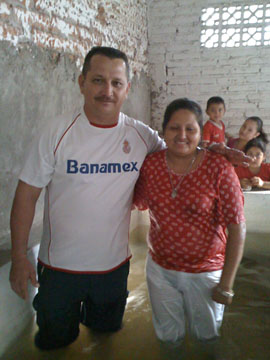 And here we have our second new Christian of the campaign.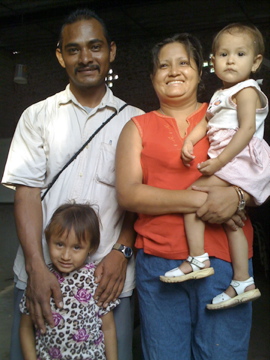 This is her entire family. The picture was taken on Victory Sunday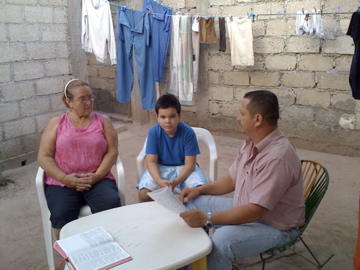 View here the typical home. We are studying with a neighbor, presenting to her the Gospel of our glorious Jesus.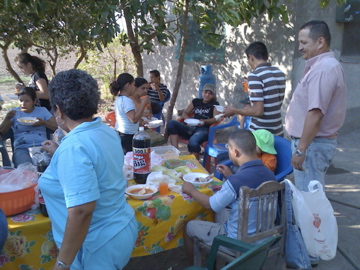 We conducted our nightly Gospel Meeting at different homes to expose family members to the Gospel, members' relatives who would not normally walk into the building.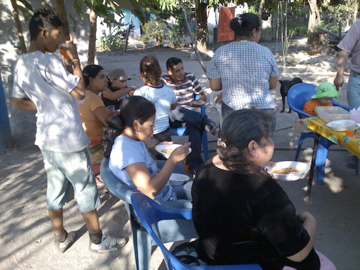 We would have an evening meal followed by the nightly campaign lessons
.