His own approach
by LARRY WEST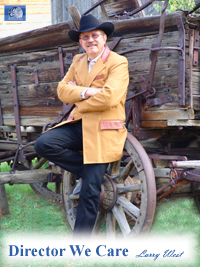 There is one group among Churches of Christ that tell us it takes them 22 "confrontings" before someone will listen. So, that's one out of 22.
Then, I just received about a dozen emails from a precious brother who has developed his own approach, where he promotes a series of mail-outs, then follow-ups at the door. I honor his precious work, but how I wish we could draft him into our own more fruitful labors! He is giving out these very stats:
He says one church has informed him, saying, "We have distributed approximately 250 letters. We have knocked doors in the survey phase now for 2 weeks. We have eight people involved in Bible studies, all having completed at least lesson #1 of a 3 part lesson study." (So, out of 250 letters that these precious workers mailed out to their neighbors, and then following up with a knock at their doors, they have been able to sit and study one lesson with one person out of 30 … that's one out of 30 … that they have contacted.)
Another church writes him, giving these stats:
Houses delivered once per week for eight weeks: 301
Contacts made at houses (2 weeks work): 147
Bible studies set up at the door: 0
Bible study correspondence courses set up: 51
Not interested: 96
Still another writes him: "We are in our 8th week with the program. We have 14 families involved. They are going to from 10 to 15 houses. I have been going to 20 houses each week. We are planning on 10 weeks then visit the people to see what they thought of the new letters. I have one family already that agreed to have a study…". (So, in eight weeks of work, he has set up one study.)
I have found it interesting that in the reports he quotes the words of a preacher, coming still from another congregation, who wrote him, saying, "I recall we tried door knocking during that time and knocked one thousand doors, set up one Bible study and baptized that lady (Tonya). It was then that I grew cold on door knocking." Why, is it any wonder?
NOW! WHY AM I SO EXCITED ABOUT WE CARE MINISTRIES? Okay, here's why! We just feed the numbers into the computer and here are the stats God has blessed our work with having NATIONWIDE:
*At one out of every three doors, someone is at home.
*Of those who are at home, we are able to actually present the Gospel of Christ to ONE OUT OF EVERY FOUR TO FIVE PEOPLE!
*And out of those who hear the Gospel then and there, we are baptizing ONE OUT OF EVERY THREE TO FOUR SOULS!
At a recent campaign, we were baptizing one out of every TWO!
At another recent campaign, we were baptizing one out of every seven people WE EVEN JUST MET outside the church building!
THAT'S WHY I'M SO EXCITED! AND GRATEFUL TO GOD!
Now, are we keeping them? Are they staying faithful? Well, only God knows for sure! Right? But, that's also up to the local church to do the "AfterCare" work, and we have a great program for that too! At Goldthwaite, Texas, the wonderful church there reports that of the 37 who obeyed resulting from the We Care Campaign, a month later 33 remain faithful! THIRTY THREE!
If we only had more Christians who had the heart to GO, God using his servants would turn this nation around! You know, what's amazing is, Mormons tell us they have to confront a hundred people before someone will listen to their (anti-Christ) doctrine … but still look at how they are growing!
Well, BE ENCOURAGED! God is SOOOOO good!
Larry
Visit the web
Visit www.wecareministries.com for other information, i.e. available soul-winning tools (such as WCM's "Let's Get Real!", latest WCM news, list of the WCM Staff and other phone numbers and addresses.