Fifty-eight Obey in New Mexico Campaign … So Far!
The campaign at Carlsbad, New Mexico, continues to be a great success. As of Wednesday, April 24, there have been 54 who have obeyed the Gospel. This city has been very responsive. Many people of the people who have obeyed had been praying for someone to come and teach them. Several have been lonely and are searching for a family.
One amazing aspect of this campaign is the impact the campaign has had on the city. Reports have been heard of people discussing it at work and people are showing up at the building requesting Bibles. Several converts simply walked in, were engaged in a presentation of the Gospel and decided they needed to obey it right then.
Another aspect of the campaign is the impact the campaign has had on all of the congregations in this city. It has energized the members of the Fox and Lake congregation as well as the other congregations. Many members of the Sunset congregation in town have been coming to go out on the streets and have been attending the evening services, The Sunset congregation dismissed its services on Sunday night and on Wednesday night so their members can attend.
The number of young people who have responded has been exciting. Three weddings are taking place during this campaign. Three sisters were members of the church here. Several people had been working with the prospective grooms and they all obeyed the Gospel.
The statement was made in the report session that "complications in this campaign have led to great works." Many times things were not working out as planned, but God worked it out where souls were saved. Here is one example of this. One couple who came to work brought their young son. The lady who had been keeping him for them while they went out to work was sick one morning. The team was delayed in going out while the mother tried to find someone else to keep him. While she was doing that, someone came to the building and wanted to know more about the Gospel. The team then presented the Gospel to him and he obeyed.
28 Obey in ongoing New Mexico Campaign
By Larry West
Carlsbad, NM – The Lord bathed in the blood of Jesus seven people the first Sunday of our We Care Campaign here. And Thursday was our first day of the neighbor SAR mission. On that first day we saw nine more obey, and five on Friday. As I write this, it is Saturday morning and we are expecting more. Since our arrival here to help set up the Campaign a total of 28 have been rescued. We have two weddings planned next week. Four obeyed and both couples, wanting to get their lives right completely, are getting married Tuesday and Wednesday nights as we begin our evening services. What a Campaign it is!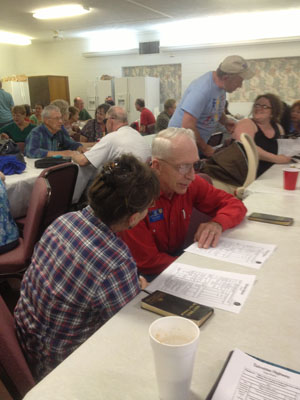 I'm telling you, when people see a church on the move, they move towards it! Yesterday, on Friday, a man simple walked into the building and sat himself down on the front row. Dwayne Smith (Cadre, Weatherford, OK) began conversation with him. He said he was wanting to get a Bible. He was concerned about his life. So, Dewayne jumped up to get him one of our little chain-reference We Care New Testaments. While he was gone, Shri-Layn Newman, (Cadre, Hendersonville, TN) saw him and began conversation. She offered him lunch as we had just finished. He already had eaten, but she insisted on desert. They sat, she confronted, he heard the Gospel, and now he is your new brother in Christ!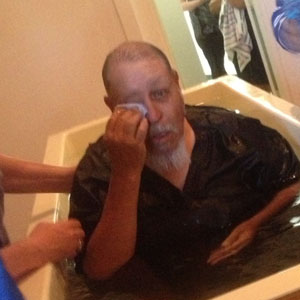 "I have no friends." "I am lonely." "I am not worthy." "I am no good." Those are statements people are telling us out there in the neighborhood here. It's amazing how many there are telling us those very things! That's sad, BUT those are part of the ingredients that make this place a gold mine here! "Blessed are the poor in spirit, for theirs in the kingdom of Heaven," remember? And the oil and gas fields are so ripe Carlsbad is expected to triple in population within the next few years. And the Fox and Lake church is hungry to grow, to rescue, to adopt! I wish you could see their love for souls!
The Gospel is showing God's power in this place! Don't tell me people are not interested…unless you're a tattling on yourself! Hmmm. Think about that one!

Come back. We'll be telling you more. You're great and we love you!