Even Dozen obey in Wichita Campaign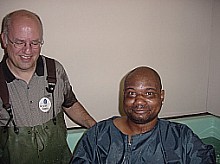 Andrew Butler is wearing a big smile after obeying the gospel.
by LARRY WEST
Sep 6 - Sep 17, 2006 - It's a WOW!

A gentleman named Robert Kiekel visited just two weeks ago the church here as we were beginning our campaign. He heard of the upcoming We Care Campaign just starting. He showed interest in our spiritual military assault and showed up the first morning we assemblied to hit the streets to win souls. So, we assigned him to a team. He went and knocked doors and listened to our presentation of the Gospel to neighbors. He then was back to go out that afternoon. And back the next day ... and the next ... and the next! He ended up out with us every time that I can think of! Along the way about four of our Cadre members took him aside, of course, and initiated dialog with him as we do with everyone else. At night he 'amened' the sermons, answered out loud questions we were asking in those sermons, nodded and was more and more verbally and visually 'up front and out loud' as he was being pulled more and more into the Gospel and family in Christ! As the end of the campaign neared, he was himself rushing to the doors and knocking, sometimes before the rest of his teams were ready, so we are told.Well, tonight, Sunday night, the closing day of the campaign, he showed up at the building for the evening assembly, towel and dry clothes in hand, and stepped up to the elders and said something most touching! In his own humble way, he said, 'If you will have me, I will obey the Gospel!' If you will have me????They will and he did!This precious man was a soldier of Christ before he was even a citizen in the Kingdom! Now he is both! In the military when a foreigner fights in the US military, they are put on the fast track to citizenship. Was Robert ever put on the fast track!

See picture and praise God!