Hey Partners!
We just finished our We Care Campaign in Pleasanton, Texas! Wow! The Lord used his workers to bring 35 new souls to Christ there by the time we finished with Victory Sunday. Just to let you see some of the overall success, we had two weddings with another set for this week. Our stats were at one out of three doors we found someone at home. That's normal. But greater than that, of those at home we presented the Gospel of Jesus to one out of every four people we met! Of those, then, we baptized one out of every THREE!
Okay, share this with your congregation there: People were even coming to the church building, saying, "You taught my mother. Teach me!" On the phone, people were calling and asking,"Do you teach Bible studies?" I'm serious! One man, Rusty, was home from work during the day because he was ill. That, he says, was a rare thing! And he was praying (all week),"God, help me!" One of our teams working his street found him standing in his carport, confronted him about his life with God, and NOW Rusty is your brother in Christ! Rusty says, "God had a hand in this!" Ahaa! Yes, He did!
What a family within the family of God that we have in this ministry!
Hey, also, tell about Robert Wagnon. Stephen Prine has joined him this week in his PalTalk room. Robert told us at Pleasanton how he and his converts had won 130 this year already. Well, while the Pleasanton campaign was going on, they were on the internet at night continuing to teach, and were winning more. Saturday night before Victory Sunday, they were teaching a Jew in Israel. After seeing our Gospel video, after talking further with them, he disappeared. Then he came back on line and said he had just been baptized into Christ in the Sea of Galilee! Then, last night they learned a Buddhist they had been studying with obeyed yesterday about 2 p.m. They were up until 3:30 this morning studying each with two more, to obey today!
All I know to say is, "Wow! Praise God!" Look at just some of the things God is doing!
Okay, our next campaign is scheduled in Lampasses, Texas, February 23- March 4, three months from now. There I will conduct our We Care Seminar the weekend just before we start, beginning the Friday night the 17 and continuing all day Saturday the 18. I will speak Sunday the 19. Our usual Tuesday night prayer night with the church will occur the 21st. So, come to all you can. Then, our next campaign will be a really hot one inMidland, Texas April 15-29, next year, just five months from now. YOU WON' T WANT TO MISS MIDLAND! AND BRING EVERYBODY YOU CAN TO THAT ONE! I can't emphasize that too much!!! :)
Hey! YOU change my life always for the good and I thank you so very dearly! I praise God for YOU!
When I say I love you the most, know I mean it!
Thank you for being in my life!
Larry

This is the way the Pleasanton campaign unfolded:
On September 9 Larry West (cadre) held a seminar at Pleasanton. LaDonna DeVille attended it with her aunt and uncle. She sat on the very first row and was nodding her head, soaking up the information being presented. After lunch Larry showed them how to present the Gospel. When everyone was about to circle up and pray for the campaign, one of the elders announced that LaDonna was ready to obey the Gospel, so she was baptized to do that.
On the Monday before the door-knocking started Reggie Gardner (cadre) and Ray Bean (local minister) went to meet Dennis LaGrange. He wasn't home but Stephanie was there. She invited them in and they started a Gospel Presentation with her and got about halfway through when Dennis came home from work. They started over and went through the entire presentation. When they asked Stephanie to give God her answer she wasn't ready. Dennis read Acts 22:16 and did not hesitate. He said,"Yes, I want to obey." The great thing is that the congregation had worked with him for eleven years but had not been able to sit down and share the Gospel with him, but God finally allowed his heart to be ready to accept Him.
The next day, Tuesday, Reggie Gardner (cadre), Ray and Nell Bean (local) were following up on those who had come to the building for help. When looking for a lady, they found the address but the house was all dark. They really thought no one lived there, but Nell insisted on getting out and knocking the door. When she did, a light came on and the lady's mother, Linda Vega, came to the door. They told her what they were doing and proceeded to get her story. Reggie then asked if he could share his story with her and she invited them in. Reggie shared the Gospel with her and at the end he asked for her answer. She said "I haven't obeyed." She wanted to do so, so they came to the building and she obeyed the Gospel.
On Tuesday Reggie Gardner (cadre) and Ray Bean (local) began a Gospel presentation with Melrose Childs but it was interrupted. They went back on Wednesday and finished it. By the time they had gotten to the end she had became so emotional that it took her awhile to answer Acts 22:16. She had to shake her head "Yes" because she was so emotional she couldn't speak. She had said at the start that she was trying to start a new beginning. During the presentation she kept saying, "I need to learn this; I need to understand this." After she had obeyed the Gospel she wrote on her Letter to Myself that she wanted to become a member of this church. When she realized God had already added her to the church she was ecstatic.
On Wednesday Reggie Gardner (cadre) and Ray Bean (local) were presenting the Gospel to Linda Vega's daughter when Donnie Vega, Linda's son, came in. He told them he had heard about these baptisms. They asked if they could talk to him sometime and he agreed to meet them at the church later that day. He was so ready to study that he showed up 30 min. early. Reggie Gardner (cadre), Anita May (cadre), and Ray Bean (local) sat down and presented the Gospel to him and he obeyed it.
Maria Haley had often seen people come to her door with religious pamphlets and had never answered the door to talk to them. She had never wanted to hear what they had to say. On Thursday when Lydia Walden (cadre), Ray Carman (cadre), Juanita Moore (cadre) and Raul Saldivar (local) came to her door, she said something told her to open it. This was the first time she had ever opened the door for religious people. When they asked her if she had any needs she said that she needed prayer. They prayed with her and then she wanted to learn more. They presented the gospel and she was undecided about what to do because she had been baptized earlier but was not sure she had obeyed the Gospel. Lydia encouraged her to be sure that she had been baptized earlier for the right reason. After thinking it over, she decided to obey the Gospel to know for sure she had done what God wanted.
That evening Mickael Moore (cadre), Jackie and Robert Hutton (local) were eating supper and they asked Mickael if he could help them. They had scheduled a Gospel presentation with Andrew Haley, Raul's son, and his girlfriend, Stephanie McCarrell, and they asked Mickael to do it. Mickael presented the Gospel to them, explaining that their commitment to God had to be greater than their commitment to each other. He then asked Robert to take Andrew aside to read Acts 22:16 and get his answer and asked Jackie to take Stephanie and do the same thing. When they came back together Mickael asked Jackie what Stephanie had to say and she said that Stephanie wanted to obey. Then he asked Robert what Andrew had to say and he said the same thing. Robert had been baptized a year ago, but he felt he understood some things now that he had not known before. He said then he was basically doing it for family and now he wanted to truly obey the Gospel. They then both went to the water to obey the Gospel.
The team of George Vinson (cadre), Betty Vinson (cadre), and Ricky Cooper (???) knocked on the door of Lee Christopher Banda. He didn't seem very happy to see them but he agreed to listen to the Gospel presentation. After he obeyed the Gospel he told them that if they had come ten minutes later they would have missed him and that he had prayed the day before that someone would come and see him and help him get straightened out. He was very knowledgeable about the Bible but had not seen how to obey the Gospel until they explained it to them.
The team of Kenzel May (cadre), Thomas Meehan (cadre) and Lexy Hunt (cadre) knocked on the door of Vanessa Hernandez. Her step-father, Greg Hernandez was there also. Kenzel asked them to tell him their story. Greg's story was that he was baptized earlier for the forgiveness of his sins. Vanessa was not baptized for the same reason. Kenzel then went into his salvation story and explained how to obey the Gospel. She saw that she needed to have her sins forgiven by obeying the Gospel. They then talked to Greg about how God had added him to the Lord's church.
On Thursday the team of Don Brock (cadre), Kevin Hunt (cadre), and Anita May (cadre) had set up a presentation with Shavanna Jewel Graham. Shavanna had many a long list of terrible experiences she had had in her life. At first she didn't want to respond to God and was actually angry with God. Don listened patiently and finally was able to begin the presentation. As they were talking she really began listening and the resistance was melting. They got part way through it and the baby started crying so she had to stop and feed it. They had to leave but came back on Friday to finish. There was a young woman there, Vanessa Reyes, who was visiting Shavanna's mother, so, since she agreed to hear it, Don started at the beginning of the presentation. Even before Don finished reading the question in Acts 22:16, Shavanna was agreeing to obey the Gospel but Vanessa didn't really understand what was being asked so Shavanna explained that God was asking her to be baptized today. Vanessa had never been baptized so she wanted to obey the Gospel. They then came to the building and went to the water to obey the Gospel.
Jim Smith (cadre), David Gant (cadre), and Susan Saldivar (local) Sonya Hagaman (local) knocked on the door of Janie Laboure and met Gary Pyle. He and his wife Jessica were staying with Janie. The team set a time for them to come back and study with him and Jessica. When they went back Janie answered and they invited her for supper and a study so they all came to church that evening and met Mickael Moore while eating supper. Jim then asked Mickael if he would share the Gospel with Gary and Jessica while Jim shared with Janie. Mickael took them and shared with them and they were ready to obey so they went to the water that night.
The team of Ron Rollins (cadre), Carol Rollins (cadre), and Harold Neely (cadre) knocked on the door of Sarah Vanessa Morales and she invited them in. She had been attending another church but had never obeyed the Gospel. Her husband had been wanting her to be baptized at that church. They presented the Gospel to her and during the Gospel presentation she was very emotional. She said no one had ever shown her this. She wanted to obey but she was afraid her husband would stop her but when she called him and told him she had done it he was actually glad she had done it.
The team of Ron Rollins (cadre), Carol Rollins (cadre), and Harold Neely (cadre) had knocked on Brandy Armstrong's door before they knocked on Sarah's door. She was feeding her children so they went next door and knocked on Sarah's door and studied with her. They then went back to Brandy's apartment and presented the Gospel to her. She was excited about hearing the Gospel and wanted to obey it so, since she and Sarah were friends, they came to the building together to obey.
On Tuesday Reggie Gardner had gone to get a haircut. While visiting with his barber, Ronald Saenz, Reggie found out that he was a man who loved God. Reggie asked if he might talk to Ronald some time and gave Ronald his name and phone number. Then on Sunday Reggie was sitting outside resting and thought he would give Ronald a call. He asked if Ronald would have time to meet and they agreed to meet at the Dairy Queen. Reggie then got his story and Ronald told Reggie he really wanted to get his life right with God. Reggie presented the Gospel to him and he was ready to obey it. He rode behind Reggie on Reggie's motorcycle to the building so he could obey the Gospel in baptism. After coming up out of the water Ronald kept clapping his hands because he was so happy.
On Monday the team of Ron Rollins (cadre), Carol Rollins (cadre), and Harold Neely (cadre) went to the door of Ruth Morales. She was very excited and asked them to come in. She said she had been praying for someone to come and see her. She has only lived here about three months and is very lonely. After going through the presentation she was overjoyed to obey the Gospel.
The team of Betty Rackley (cadre), Thomas Meehan (cadre), and Maria Parker (cadre) knocked on the door of Selma (Sally) Ann Castillo. They asked her the question and she agreed to listen to their presentation. At the end she decided to obey the Gospel. She was a little hesitant because her job has mandatory Sunday work, but she agreed to go ahead and do what God wanted.
Monday the team of George and Betty Vinson (cadre) and Charles Riley (local) were talking to a member, Raul Saldivar, at his house when George noticed a man next door drinking coffee in his back yard. George went over to talk to him and at first he tried to keep George away by telling him he belonged to another religious group in town. However George kept walking and met Lino René Navarro. He told George, "I knew you would be back," because George had left a brochure on his door when he was not home. They began the Gospel presentation and René kept exclaiming, "This answers the questions I have had for seven years!" He was so thrilled to find the truth. They brought him to the building to obey the Gospel and he was very excited about it.
Some of the 70+ Cadre with local workers on the front lines at Pleasanton!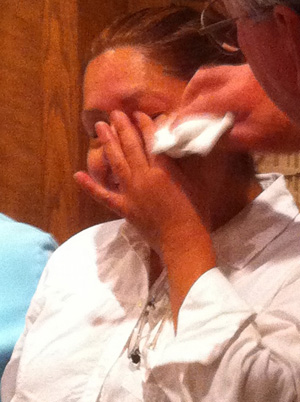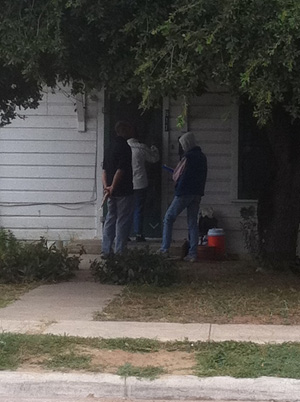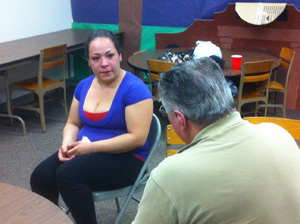 Took Place

October 26

Pleasanton, TX

November 6 2011

English

WE CARE CAMPAIGNS